Haven windows chosen for stunning new Wickham house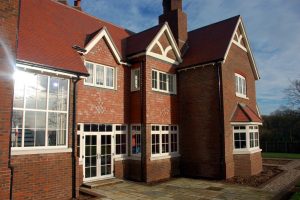 Earlier this year we completed an installation for a stunning private new build in Wickham, Hampshire. The project included 80 Haven Georgian Bar windows in cream, which complemented the style of the build perfectly. Here's what the homeowner, Richard Paine said about working with Window Warehouse.
"When I started looking for windows to go in our new home, I went to three different companies to get quotes. I visited Window Warehouse's showroom in Portsmouth to have a look and was impressed that the Georgian Bar window mouldings had much more detail to them compared to others I'd seen. The monkey tail handles they offer really finished them off nicely with the heritage style I wanted.
"The quality of product was what really struck me but the price was good too. Window Warehouse's commercial installation team worked alongside our site manager and were flexible in fitting in with our build schedule as we had lots of other contractors working on site at different times.
"The team internally at Window Warehouse were first class too. They were great to deal with and when we have one minor snag with a lock, they replied within 5 minutes and sorted it for me."