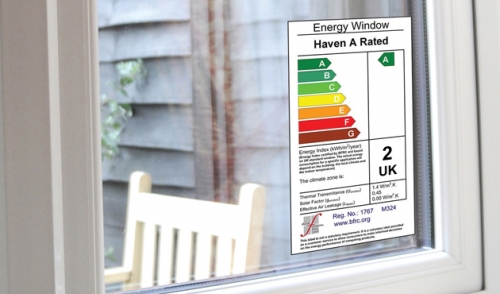 More homeowners that ever are asking for 'A' energy rated windows. In a recent survey of installers across the south coast 81% of respondents said energy ratings were important or extremely important in selling windows to homeowners.
Against this demand for 'A' energy rated windows it's easy to lose sales or profit by having to use a more expensive glass unit.
We started working with customers a long time ago to make sure this wasn't a problem for Window Warehouse customers. Our Haven windows achieve 'A' WERs with a wide outerframe and only float glass – so there's not even a problem with plaster lines.
In fact we can give you competitive prices on a whole range of 'A' WER windows:
'A' ratings on white large outerframes, using float glass
'A' ratings on woodgrain small outerframes, using float glass
Choice of chamfered or fully sculptured Halo frames
Cost effective 'A' rated top swing windows
Up to A+38 WERs
Window Warehouse sell more A WER windows. In a recent survey the majority of our customers said they believe our windows beat their competitors when it comes to energy efficiency.
Selling the benefits
Giving your customers good information on saving energy can make a big difference especially with the way energy prices keep shooting up. A really good way to do this is with our free HAVEN ENERGY CALCULATOR. It's quick and simple to use and shows homeowners how much energy and money they can save by fitting Haven 'A' energy rated windows. To get a copy click here.
There's great security too…
The other concern high on most homeowner's list is security. Haven windows come with multipoint shootbolt locking and the industry best friction stay protection as standard. So it's another box ticked when you're up against the competition and can't add any cost to the job.