Lift & Slide Patio Doors – The Latest Grand Designs Trend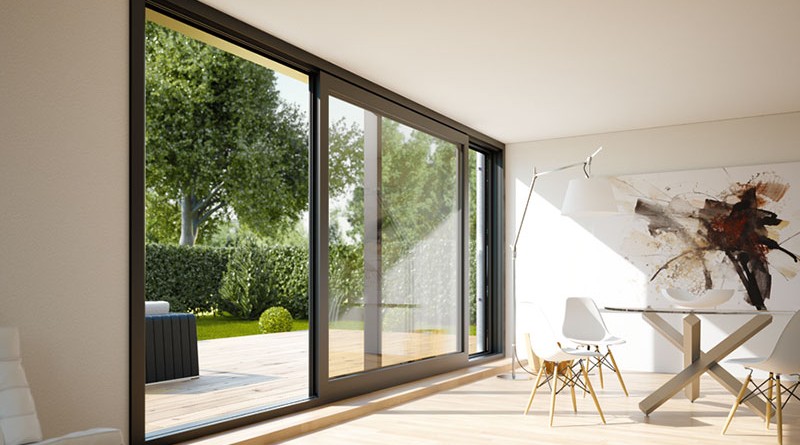 Lift and slide doors are proving a popular choice for homeowners who are looking to open up rooms to the garden, let in extra natural light and enjoy uninterrupted views.
The latest lift & slide door designs offer easy access to the garden with a single, wide-opening door. With extensive glass panels and slim frames, lift & slide doors are the perfect option for framing views from the home.
As well as great aesthetics, homeowners are looking for luxurious lift & slide technology for easy use and a smooth glide opening. Plus, great performance benefits including high energy efficiency and security.
Aluplast Lift And Slide Patio Doors Available Now from Window Warehouse
Portsmouth window installers can now get Aluplast PVCu and aluclad lift and slide patio doors to offer to homeowners looking to open up their homes with this latest trend. Low maintenance, with great thermal performance, Aluplast doors are the perfect solution.
They offer wider panels for an even bigger glass area, to connect indoor and outdoor spaces. They have been engineered for a smoother lift & slide motion with slim frames and modern design finishes for a truly contemporary look.
The doors achieve fantastic energy ratings and there are lots of design options for your customers to choose from.
Benefits of Aluplast Lift & Slide Doors from Window Warehouse
Can achieve A++ energy ratings
U-values as low as 0.65 W/m2K
Aluplast Ecotech technology
Easy to use lift & Slide – proven and robust opening
Can span up to 5m X 2.8m with just two panes
German engineering for trouble free use
Huge colour range including painted woodgrain and traditional woodgrain finishes
Aluminium clad PVCu hybrid frame option
Integrated hardware for a smooth operation
Choice of twin or triple track systems
Low threshold option
Slim sightlines with five chamber frames
There is the added option to have the PVCu frames clad in aluminium for a cost-effective lift & slide door with all the performance, cost and efficiency benefits of PVCu but the aesthetics of modern aluminium.
The finish is incredible – talk to Window Warehouse about the aluminium aluskin finish or download the Lift & Slide brochure.