Easy Tiled Conservatory Roof Replacements with Leka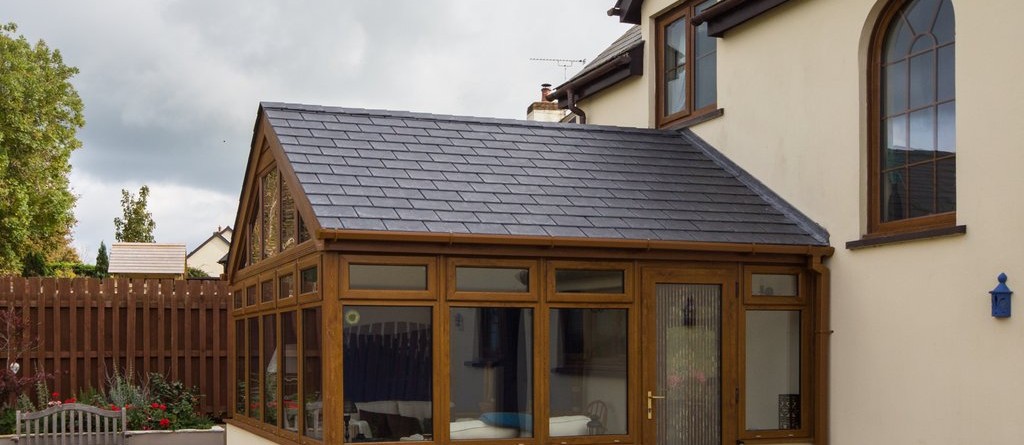 Tiled conservatory roof replacements are made easy for window installers on the South Coast with Leka.
Leka is supplied ready-to-fit by Window Warehouse. It's a lightweight, fully insulated tiled conservatory roof system that's perfect for replacing old glazed conservatory roofs or building new extensions.
Why Choose Leka?
Leka is the perfect replacement for old glazed roofs. The system is lightweight, so it can be retrofitted onto existing PVCu frames to transform unused conservatories into rooms that can be used all year round.
The system is highly insulated, with an impressive U-value of 0.15 W/m2k. The high level of insulation ensures that the heat is kept in during the cold months and the tiled roof means the sun can't create a greenhouse effect in the room during the summer months. It means that your customers can have a room that they can use all year round.
We manufacture the Leka roof at our factory in Portsmouth. Each roof is made to measure and delivered directly to site, ready for you to fit.
Leka is a fully approved, registered system for Building Regulation compliance, so it's easy and cost-effective to get hold of building certificates too.
Benefits of the Leka Tiled Conservatory Roof
Easy to replace glazed roofs
Industry leading U-value – 0.15 W/m2k
Quick to install – typically in just 2-3 days
Approved by JHIA for Building Regulation compliance
Lightweight roof using GRP ring beam and rafters
40-year system warranty
Design Options
Leka offers plenty of design options for your customers.
The Leka roof system can be manufactured to suit all conservatory styles including: Victorian, Edwardian, Lean-to, Gable-end, P-shaped, T-shaped and combination. That means that whatever style of conservatory they want to refurbish, you can offer them a great cost-effective solution.
There is the added option of having skylights incorporated into designs, for extra ventilation and natural light in the room.
There is a choice of Tapco or Metrotile external finishes too, so your customers can match their Leka roof to the existing roof on their property.
Tapco Slate Benefits
Looks like real natural slate
Lightweight
Minimal potential breakage
Easy to handle
Resilient, waterproof finish
Won't curl, lift or delaminate
BBA certified
40-year warranty
Fully recyclable
Range of colours including: Pewter Grey, Plum, Brick Red, Emerald Green and Grey/Black blend

Metrotile Slate Benefits
Pressed from high-quality steel
Lightweight
Weatherproof
40-year guarantee
Noise-proof
BBA certified
Fully recyclable
Can be used on pitches as low as 10 degrees
Range of colours including: Antique Red, Burnt Umber, Ebony, Charcoal and Moss Green

Become an Approved Leka Tiled Conservatory Roof Installer
Leka has had its system, policies and installer training packages thoroughly assessed to ensure absolutely accurate structural details. U-values and condensation risk analyses are checked and kept up-to-date to ensure the system maintains its approved status.
In the interest of maintaining the high standards of the Leka system, it can only be installed by Approved Installers.
To find out about our free Leka training opportunities, or for more information on becoming an Approved Leka Roof Installer, contact us.
Alternatively, you can download a brochure or request a quote online.