Window Warehouse enhances door security with Guardian Hinge Protection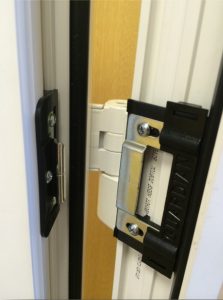 Most burglars break in through doors according to Home Office crime prevention advice. Many of these break-ins occur out of sight by forcing open a side or back door.
Although improving security is high on the list of priorities with most homeowners when replacing their front door, they often pay less attention to the back door and will save money by choosing a cheaper product.
To overcome this problem Window Warehouse has always added extra security as standard to its Haven range of PVCu entrance and French doors. Offering high security without adding cost.
Now we've enhanced security even further with the revolutionary new Guardian Hinge Protection System. Its unique design offers a higher security rating for doors when tested to UK and European standards.
Guardian Hinge Protection high tensile steel claw and hook plates are fixed directly to the door frame and sash reveal close to the hinges. If the door is forced or jemmied the two sides hook together. The more force applied the more the protector locks together to prevent the door from being jemmied off its hinges.
Guardian has been tested to PAS24 and passed with flying colours. In the test 4 Kilonewtons of load pressure is applied to the door whilst trying to disengage the Guardian Hinge Protector. Guardian actually withstood 7.5 Kilonewtons – that's over three quarters of a tonne!
The low profile design of Guardian Hinge Protection is housed in a durable ascetal moulded shroud to form a neat detail that protects clothes or bags from getting snagged when walking through the door.
Window Warehouse residential and French door are high security as standard. Check the enhanced security specification
Download the Guardian Hinge Protection System datasheet